Krissy's subject this week for her photo shoot is "
old
". One of my favorite things in the whole world is trees. I love to think about the history of a tree. When was it planted? Did anyone climb its branches? Sit under its shade? They fascinate me - as if they almost have a soul. I love crooked branches and weeping branches. The colored leaves in the Fall really move me! Today I have two trees for you. They must be quite old. The first has a knotty tree trunk. It lives in a local park. I am sure a lot kids have played in its shade as it is next to a playground.
The next tree I have for you is a tree that is across the street from my apartment. I have shown it to you all a couple of years ago. It is called my "V Tree". It stands in front of a church that's about 200 years old. When I go outside it screams my name. It also yells other "V" words to me. In the Winter it is a perfect shaped V with very few branches coming out of it. Here it is in late Summer full of green leaves getting ready to turn its Fall shades.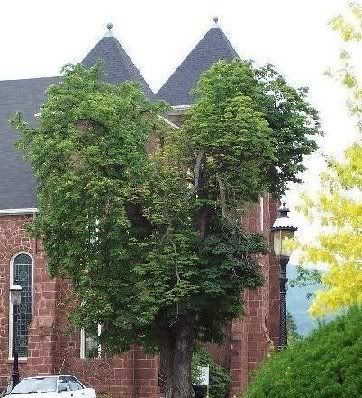 I hope you enjoyed my "old" pictures! If you would like to play the photo shoot stop by
Sometimes I Think
. Thanks for stopping by!