The wedding I went to last Saturday was very beautiful. It was short and very sweet. Jonah sat and watched with me and was quiet the whole time. Josiah was so good walking down the aisle. He was the ring-bearer. He walked down with such purpose! I was very surprised! He stood there through the entire ceremony. I am so pleased he stood there the whole time. LOL Here are pictures of the two little ones from this weekend. I am sorry they aren't larger, but I didn't take the pictures. I don't even have one of the bride and groom =(.

Jonah is nine months old now...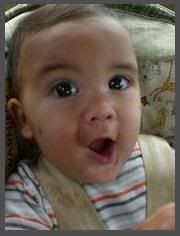 Josiah is 22 months old...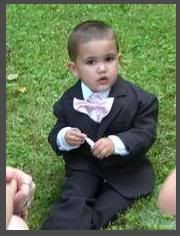 Josiah is holding a bottle of bubbles, which he absolutely loved, and we had a hard time snatching from him. He had a difficult time blowing bubbles himself, but he chased other kid's all over the lawn.
Grammy misses and loves you, my babies!!!
Tags: wedding, grandbabies, go blow bubbles, awwwwww, blogplugs