I slept 16 hours last night. 16 hours. I laid down around 4 PM to get a short nap and didn't wake up until 8 AM this morning. I do this once or twice a month when my body needs it. Wow. When this happens I sleep solidly. I don't feel refreshed when I wake up. I never do. I haven't in many years. This is a problem with fibromyalgia. You don't get enough oxygen to your muscles and organs when you sleep so you don't feel refreshed when you wake up. Ever. 16 hours is better than two or three, which is what I get a lot of nights.

My kitty, Boo, made sure I woke up this morning. He meowed every two or three minutes after 7 AM. Whenever something is unusual, he will do this. My sleeping this long was unusual, and he wanted to make sure I was okay, so he kept meowing. I may have slept even longer had he not done this. It's funny, Boo and I go to bed together on the same bed, but when I wake up he is on a chair by my bed staring at me. Always. No matter what time I wake up. It could be 6 AM and I could wake up every five minutes. He is STILL staring at me. It kind of spooks me out. Staring Boo.

Now on to Krissy's photo shoot. The subject for this week's photo shoot is "the letter 'T'... something that begins with the letter or resembles the letter".

I have three photos today. The first two are my children's tattoos. Matt has a tattoo of a treble clef. That is two t's. LOL... Matt has another tattoo on his other arm of a music symbol in Mandarin. I don't have a picture of that, though.




This is Chelsea's tattoo. It's on her lower back...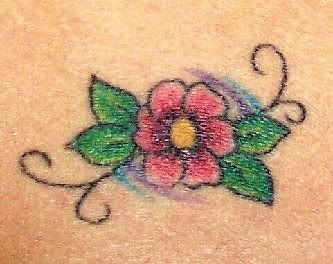 I don't have any tattoos. I have always wanted to get one. I can't get one, though, as I am on blood thinners because of my shunt. I know what I would get and where, though. Do you have a tattoo? Would you get one?

Finally, this is a shot I took of "two T's" in the sky with a rainbow behind it. If you look closely you can see a double rainbow.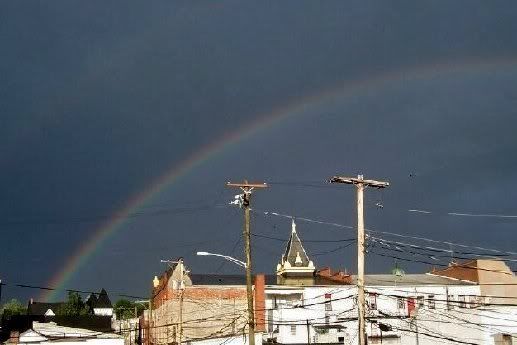 If you would like to play Krissy's photo shoot visit her journal. She posts a new subject every week.

Thanks for stopping by!! Hope you're having a good weekend, journal pal =)!! xox

Tags: The Original JLand Photo Shoot with Krissy, JLand Photo Shoot, photo shoot, photo hunt, photography, fibromyalgia, T, tattoos, rainbow, have a nice weekend!