Hi everyone! Happy Tuesday!... Wow, I just spent at least an hour doing my first installment of LOLpets Tuesday and in the blink of an eye... poof... it was gone. AOL shut down. Wow, that can get so frustrating. Do I have the patience to do it all over? I will do it for you all =)...
What is an LOLpet? Well, LOLcat started as a made up language just spoken by cats, but has grown to include other animals. I thought it would be fun to include all pets and even things other than pets if you would like! Have fun, no rules!
I'm very pleased with the first LOLpet I have created!! I hope you get a smile from it as well!! I am very excited to let you know that I have found two new LOLcat sites as well as an LOLcat translator! This should give some believability and creativity to our work! Neat!!! So this is how LOLpets works:
1. Take a picture of your pet or choose one you have already uploaded (or from the net) onto your hard drive.
2. Decide what you want your pet to say. Remember that this comes from your pet's mouth. Use the pet translator if you would like.
The Lolcat Translator
3. Visit one of these two sites. Upload your picture and words, by following instructions on site, to create your LOLpet! I find the first site to be very easy. The second one is a little harder, but is more creative. I used the second one on my LOLpet.
Lolcats: Im in ur computer makin ur graphix
roflbot!!
4. When finished, save your picture by right clicking your picture and hitting "Save as.." and Save. Post an entry in your journal displaying your LOLpet. Please come back to Tuesday's LOLpets and leave your FULL entry URL so we can all view your work. I will be listing everyone's LOLpet, so don't forget!! Have fun!!!!!
And now my first LOLpet, featuring my Baby...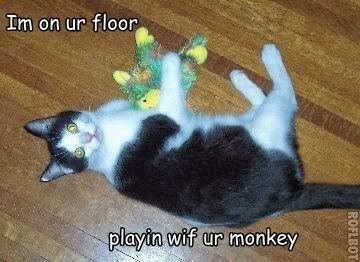 If anyone has any questions or problems feel free to email me! Have a good evening! meow! xox