Happy Saturday journal people =D! I have been so busy the past few days. I haven't told you all this, but Chelsea and her little family are moving two hours away next week. I am quite sad to say the least. I had Chelsea and Josiah over the past three days while Desi has been working his new job out of town. It was so nice to have little Josiah romping around. He is talking some now. He can repeat a lot of words. He loves to make animal sounds, too! Whenever he sees me he howls like a hyena, "Owww-oooo", and when he sees my boyfriend he quacks like a duck, "Aaack". Too funny! LOL Josiah turns one on Wednesday. Wow! He isn't walking yet. He pulls himself up on things very well and stands just fine, but the funny thing is when you hold his hands and try to have him walk he always walks on his tip-toes. We are having his first birthday party in a park today!! I'm very excited!!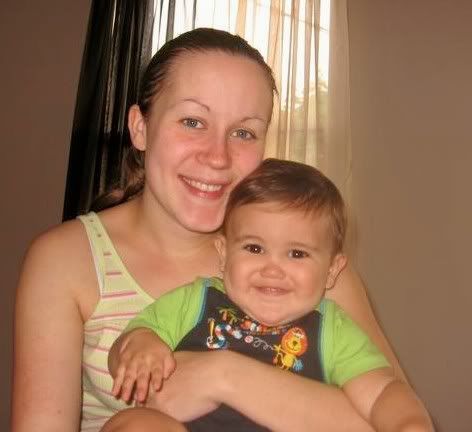 Chelsea's due date is October 7. They decided on a name - Jonah Alexander. I love it!! Josiah will have a little brother. I am sure they will be best of friends. Awww... I'm crocheting a blanket for little Jonah. I'll try to have a picture of it when I am finished. Josiah loves his first blanket I crocheted for him. Actually, I crocheted two for him so far. I love to crochet. Well, I need to get off here and get ready for the party!! It's a barbeque at a park and a pool!
Oh, one more thing! I got a NEAT award!! I was excited! I received a
Blog of the Day Award
yesterday! Wow! I wanted to let you all know. There are so many awesome blogs out there. I am so humbled. Thank you!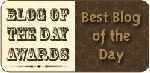 Have a good weekend, everyone! xox